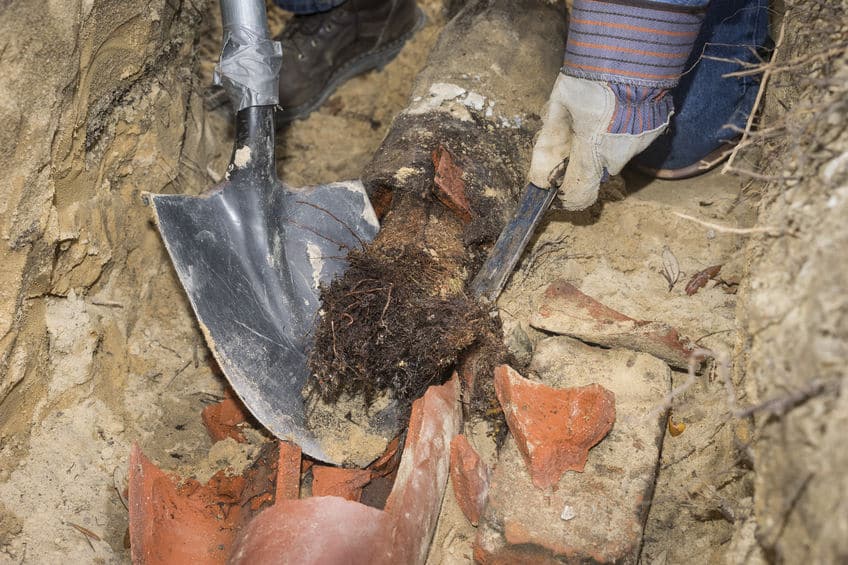 If you have a home built before 1970, chances are high!
Denver is full of lovely older homes with plenty of character and charm. And maybe a few quirks. One of those "quirks" could be lurking in your sewer line.
Continue reading to learn more about your sewer line and don't hesitate to reach out to our Denver plumbing experts if you have any questions or are ready to schedule drain or sewer service in Denver or the surrounding area!
What is a Mainline Sewer Line?
Your mainline is the line that goes from the house to the sewer connection. All your drains dump into your mainline. When it gets clogged, drains all over your home are unable to work — and you could even end up with wastewater backing up out of your fixtures, leaky pipes, and other problems!
Sewer Line Pipe Types
Some materials used to carry sewage to the municipal connection are more susceptible to compromise than others. The type of sewer pipe material in your home will likely be determined by its age. Older homes often have clay, cast iron, or even Orangeburg pipes, while newer homes are most likely to use plastic.
Orangeburg Sewer Pipes
Orangeburg is a pipe made from cellulose wood fiber held together with adhesive and impregnated with liquefied coal tar. It was used from the 1860s through the 1970s. Lack of strength causes these pipes to fail more frequently than pipes made with other materials. The usual life for Orangeburg pipe is about 50 years under ideal conditions but has been known to fail in as little as 10 years.
Clay Sewer Pipes
Clay pipes were commonly used in the early 1900s and were phased out in the 1960s and 1970s. Clay sewer pipes are porous and brittle, making it easy for tree roots to compromise the line.
Cast Iron Sewer Pipes
As with clay pipe, cast-iron sewer pipe is more commonly found in older homes. One of the primary disadvantages of cast iron pipes is that they are susceptible to rust. Rust can cause the pipes to become weak and may even show signs of deterioration after 25 years.
How Do You Know if There Are Issues with Your Outdated Sewer Lines?
Problems like waste backing into your shower when you flush, toilet paper and signs of waste near the floor drain or basement tub/shower, and multiple drains backing up are all signs you need sewer line repair or even sewer line replacement.
What Causes a Mainline to Fail?
If you find yourself with a main sewer line clogged, there's not really any do-it-yourself way of fixing it. These drain lines are often buried deep under the ground. One of the most common causes of a clog is damage to the sewer line itself. If a pipe collapses or bends, the damage can keep waste from moving through the line properly. Other causes of sewer line issues include:
Shifting soil around the pipe
Corrosion within the pipe
Damaged pipe joints
Sagging pipes
How Do I Know if I Need to Replace Sewer Lines Rather than Repair Them?
You'll want to start with a mainline drain clean to clear out dirt and debris from the line. Depending on what comes back, a camera line is recommended. The camera allows a view of the sewer line to determine what is causing the sewer to back up. It will help pinpoint obstructions versus a full break in the line. Sewer line repair is often the most cost-effective approach if the problem is isolated to a specific area and not affecting the length of your sewer line.
Help from the Denver Sewer Line Pros
If you have sewer issues, call the licensed plumbers at Bell Plumbing, Heating, Cooling, Electrical & Drain Cleaning. We'll let you know the best course for remediation. if sewer repair is the most practical approach, we will go over the scope of work in detail and provide you with an upfront quote. Our goal is to help you fix your sewer line issue as efficiently as possible. Give us a call to have the problem inspected and receive straightforward options for your sewer line problem.
Schedule an appointment with a licensed plumber in Denver or the surrounding area today!
Be sure to take advantage of our coupons!
$89 Mainline Drain Clean
Free Camera Inspection
Free second opinion on water and sewer line replacements
Coupon $50 off any plumbing, heating, cooling, or electrical service