Why is My Air Conditioner Not Blowing Cold Air?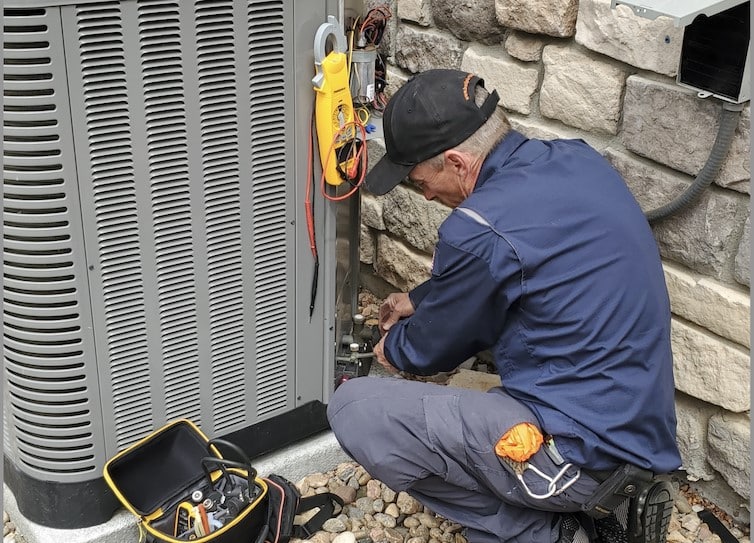 Lack of cool air from your Denver air conditioning system can be caused by a variety of problems…blower motor, fan belt, clogged filter, and others.
Keep reading to learn why your air conditioner isn't blowing cold air or simply reach out to the Denver AC repair experts at Bell Plumbing, Heating, Cooling & Electrical.
We'd be more than happy to answer any questions you may have or schedule service for you!
1) Dirty Filter
The easiest to solve and most common issue with no cooling is a dirty or clogged filter. Your HVAC filter works in the summer when you cool your home and, in the winter, when you heat your home. It traps dust, lint, hair, and pollen. It doesn't take long for a filter to get dirty, so change them regularly. If they do get clogged, air cannot flow through them correctly and your AC may shut off because it can't get enough air. And if the filter is unchanged for too long, it can cause parts to wear out faster than they should. It can even affect the evaporator coil and condenser, creating a much larger problem. Depending on your family size, level of dust, and pets in the home, you should change your filter every one to three months.
2) Blocked Registers
Just like air filters, return air registers can get clogged, or blocked by furniture. This can also restrict airflow. Return air registers take air into the heating and cooling system while supply vents blow conditioned air into your home. Restricted airflow in either can cause problems. The ventilation system that runs through your home needs to be checked for blockage or leaks. If you notice only certain rooms aren't getting cold air, check the supply vents and ducts for blockages.
3) Thermostat
The thermostat's job is to tell the cooling system to turn on when the house gets above the control setting. If the setting gets changed accidentally, the system will not kick on. Similarly, the thermostat needs to be set to "auto" or "cool". If the thermostat is set correctly and the air conditioner is not kicking on, the fault may be with a failed thermostat. Check the batteries before opting to replace the thermostat.
4) Evaporator Coil or Condenser
Evaporator coils are vulnerable to various issues including cracking, freezing, and dirt buildup. Coils can become bent, and they do wear out over time. The condenser can also wear out and even freeze up. Condenser problems are often caused by bent fins, refrigerant leaks, dirty coils, or a faulty fan. If your AC is turning on and off frequently, it might be a sign of damaged coils.
5) Refrigerant
Finally it's possible your AC is running low on, and needs additional refrigerant added. The most likely cause of low refrigerant is a leak. A leak would not only keep the air conditioner from cooling properly but can also cause other issues.
Help from the Denver Air Conditioning Experts!
If you troubleshoot your failed air conditioner and still have issues, contact the licensed Denver HVAC contractors at Bell Plumbing and Cooling. Call us today for expert AC repair and air conditioner replacement services!