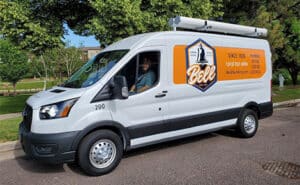 If you have an older home that has recently experienced numerous problems from leaking and high water pressure, you should consider scheduling a repiping job. Contact us today to have an expert Denver plumber to inspect your home and provide a complimentary estimate on how much pipe replacement service you need.
Understanding Denver Repiping and Our Approach
Home plumbing systems are built to last, but like anything else, they won't last forever. This is particularly the case in older homes where the pipes may be worn, vulnerable to leaks and breaks, and clogged with mineral deposits. Homes constructed before World War II are especially susceptible, as galvanized steel – durable but prone to corrosion after about 50 years – was the go-to plumbing material.
Replacing older piping is a significant undertaking that should be left to professionals. At Bell Plumbing, Heating, Cooling & Electrical, we can handle everything from replacing a few faulty pipes to complete whole-house repiping. Our goal is to complete the work as quickly as possible with minimal disruption to your everyday life.
Our precision repiping in Denver, CO will leave your house looking the same as before—only with superior piping hidden in the walls and floors.
Our Denver Repiping Process
The thought of repiping might conjure images of your home being turned into a demolition zone with torn drywall and floorboards. However, you need not worry. While repiping is a substantial job, our plumbers handle it to minimize the intrusive work done on your home's building materials.
Here's a general breakdown of our process:
Duration: A repiping job typically takes 3-5 days, depending on the size of the task.
Water Service Continuity: Throughout this period, we ensure that your regular water service continues to function for most of the time you're home using a bypass. If you're typically out during the day, you might not even notice any service interruption.
Protection: Before beginning, we cover floors and furniture to protect them from water damage and dust.
Pipe Access: We access the pipes in your walls by making small cuts into the drywall of the walls and ceilings, removing only as much building material as necessary to reach and remove the old pipe. The replacement is done with new copper, PEX, or CPVC piping.
Floor Access: To reach pipes in the floor, we typically go through the ceiling below it, where possible.
Additional Services: If you're planning a remodel and need to expand your water service, you can arrange for additional pipes to be installed at this time.
Restoration: After replacing the pipes, we restore the cuts made into the walls and ceiling and patch and re-texture them, leaving no trace of our work.
Bell Plumbing, Heating, Cooling & Electrical has been helping Denver with plumbing services since 1926. For your repiping in Denver, CO, make us your first call.