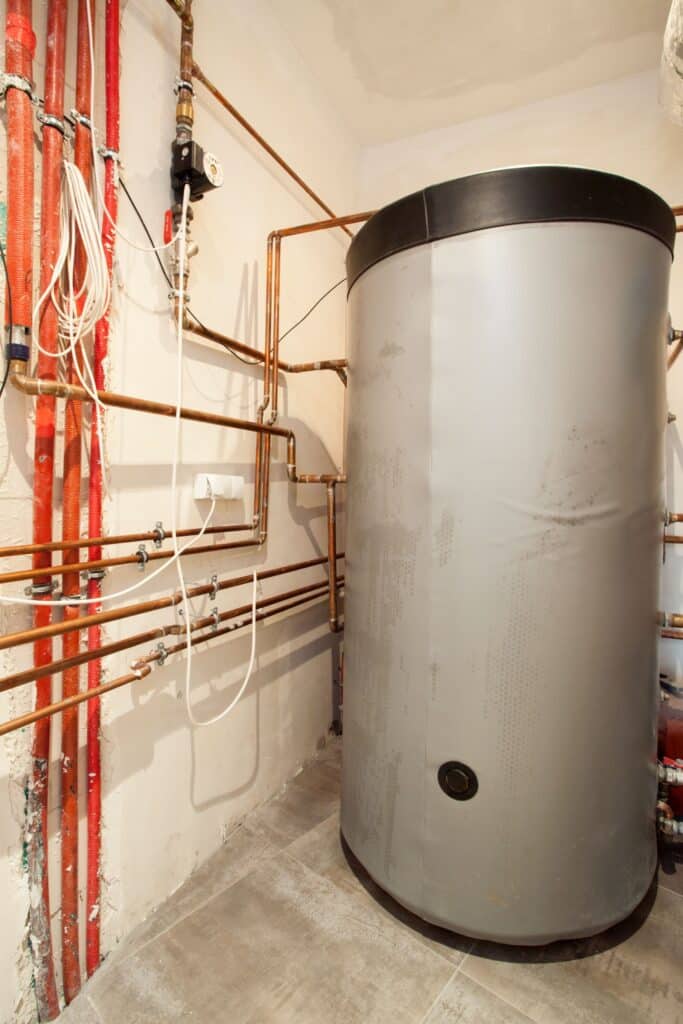 Boiler systems have quite the reputation for being sturdy, above and beyond most of the other heating types available on the market. However, just because your boiler is resistant to problems does not mean that it is invincible.
Eventually, you will have to replace your old boiler; the only question is when.
Read on to learn everything you need to know about boiler replacement, including what signs to look for and some benefits you can expect. You can also call the Denver heating team at Bell Plumbing, Heating, Cooling, and Electrical for help determining if you need a repair, maintenance, or an immediate boiler replacement!
Common Boiler Repairs
Boilers are pretty robust heating systems but they still need repairs on occasion. Here are some of the most common boiler repairs that we've seen in Denver:
Water Leaks
Any piece of equipment that deals with pumping lots of water will eventually spring a leak—boilers are no different. Boiler pumps are a common place for leaks because they're constantly in use when the boiler is running. The expansion tank is another common place for boiler leaks in Denver.  If you start to notice puddles of water near your boiler call for repairs immediately.
Strange Sounds
Another common boiler repair call that we get in Denver is for strange boiler noises. While your boiler normally makes some sound as part of its normal operation, you should keep an ear out for any new or unusual sounds. Grinding can indicate that your pump is acting up. Rumbling can mean that there is sediment collecting at the bottom of your boiler tank.
Not Enough Heat
Finally, if your boiler isn't producing enough heat it is usually a bad sign. Sometimes it can be something simple like the thermostat on the boiler is set too low. But it can also mean that your water pipes are clogged so that the hot water isn't getting into the floor or wall coils in the rest of your house.
Signs You Need to Replace Your Boiler
If you're using a boiler system to heat your home, you should be aware of the symptoms that it's reaching the end of its life. Let's take a look at some of those symptoms now.
1) Output Drops
Dropping output is never a good sign when it comes to a heating system. If your boiler is not generating enough heat for your home, it's definitely something you should have looked at. If the loss of heat is limited to one part of the home, then it's likely that you have a specific issue with the piping in that section. If the output drops are consistent throughout the home, though, it's a pretty good indication that the problem is with the boiler itself.
2) Frequent Repairs
As previously mentioned, boiler systems very rarely need repairs. However, the repairs that they do need tend to pile up near the end of their lives. Normally, you should need to repair your boiler maybe once every few years. The closer a boiler gets to the end of its lifespan, though, the more parts will start to wear out and fail. If you need to repair your boiler multiple times a year, you should just go ahead and replace it. It will be more cost-effective in the long run than just replacing the system one piece at a time.
3) Age
Boilers have a well-earned reputation for longevity, especially compared to other home heating systems. The reason for this is that boilers have far fewer moving parts, which means that there are fewer ways for problems to occur. Despite this endurance, however, boiler systems do have expiration dates.
You can keep your boiler going for many decades, if you're willing to dedicate enough money to it. However, once the system gets older than 25 years or so, the efficiency loss and frequent repair problems make maintaining an older boiler an incredibly expensive prospect in a lot of cases. If your boiler is approaching that mark, talk to a professional about whether or not to replace it.
4) Higher Bills
All systems accumulate wear and tear over time. After many years of normal use, a boiler system will have quite a bit of wear on the various parts that make up its system. This will cause a steady decline in efficiency, which will force the boiler to operate for longer periods of time in order to create the same temperature changes. The longer the boiler operates, the more it will cost. If your heating bills seem to be rising for no apparent reason, you may need a new boiler.
Should You Repair or Replace Your Boiler?
So then, how can you tell if your boiler needs to just be repaired or if it needs to be replaced? Probably the best indicator of boiler replacement is age. If your boiler needs repairs often and is over 5 or 10 years old, it might make more financial sense to just replace it entirely. Boilers typically last for a very long time, but if your boiler needs extensive repairs when its only halfway through its life, it could mean that you're just going to keep having to pay for costly repairs.
If you're not sure whether or not you need to install a new boiler, it's best to have a professional examine the system rather than waiting for an obvious sign (like a total and complete breakdown). A technician will be able to evaluate your boiler, determine whether or not it needs to be replaced, and recommend the ideal replacement for you. This is always the best option if you need to make sure of the state of your boiler.
Benefits of Replacing Your Boiler
There are many benefits to replacing your boiler, including:
Efficiency: Old boilers aren't as efficient as newer models on the market. Your old boiler is likely taking up valuable time, money, and resources by working to heat your home.
Fewer repair costs: As boilers age, they need ongoing repairs. At some point, it makes more sense to upgrade to a newer unit than to keep paying the bills to repair the old one.
Lower energy bills: When your boiler works more efficiently, you should see a decrease in your energy bills for long-term savings.
Less noise: Older boilers tend to get noisy and can keep you up at night or disrupt your peace and quiet. Newer models are quiet and you'll hardly notice they're there.
Call Bell Plumbing, Heating, Cooling, & Electrical
Are you ready to make the switch to a newer, more efficient and reliable boiler? Or do you want to see if you can repair the one you have? Call our team today! We offer the best boiler services in the Denver area and can help figure out the best solution for your home.