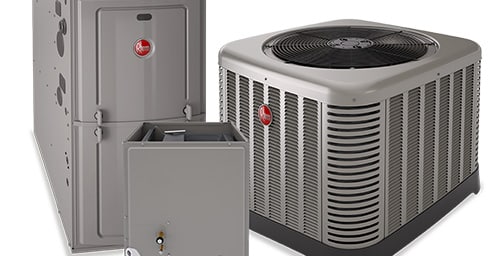 If you limped your AC through the summer so that you could delay replacing it until next season, you might want to reconsider.
Replacing your AC equipment vs. repairing it can be expensive, however, that old system could cost you much more in energy bills. Couple that with end-of-season discounts and rebate programs and you could save a pretty penny! If your system is more than ten years old, take a good look at the advantages of installing a high-efficiency air conditioning system now.
Rebates are Coming to an End
Xcel Energy is offering a 2023 Energy Efficient Home Improvement Credit. You can earn rebates for high-efficiency cooling systems when you have them installed by a participating heating contractor offering quality installation. This program ends on December 31st, so if you want a rebate, don't wait for next season to replace your unit!
Performance and Efficiency Are Related
Homeowners expect their heating and cooling systems to keep them comfortable without breaking the bank. The more energy-efficient your heating, ventilation, and air conditioning systems are, the less they cost to run, and the lower your heating and cooling bills might be. Call Bell Plumbing, Heating, Cooling & Electrical for a new equipment estimate and enjoy end-of-season savings.
Buying New Cooling Equipment
Shop for efficiency. An EnergyGuide label tells you how much energy a product uses and how it compares to similar models. An Energy Star logo means the product meets certain energy efficiency guidelines set by the Environmental Protection Agency and DOE. ENERGY STAR qualified heating and cooling equipment can be up to 15 percent more efficient than standard models.
Benefits of Energy Star Qualified Systems
Lower Utility Bills. ENERGY STAR qualified heating and cooling systems are designed to use less energy than standard systems. When properly installed, these systems can save money on utility bills.
Increased Durability. Most ENERGY STAR qualified equipment employs advanced technologies and high-quality components, often resulting in longer equipment life and longer warranties compared to standard models.
Rebates. Current Xcel Energy rebates are available on a qualified HVAC installation of energy-efficient equipment.
When you get a complimentary replacement estimate from the Denver heating and cooling experts at Bell Plumbing, Heating, Cooling & Electrical, you'll receive pricing that compares various models based on their energy ratings. It's important to not only purchase equipment based on energy rating, but also the right-sized equipment for your home and family. Oversized or undersized equipment could cost you money in initial costs, too much fan power, and the level of work it requires to produce even heat or cool conditions.
Proper Installation
Proper installation of equipment can have a big impact on performance. Look for heating and cooling equipment to be installed according to best practices, including:
Proper Equipment Placement. The best location for air-handling equipment and ducts is inside the conditioned space of the home (as opposed to an unconditioned garage or attic) to minimize exposure to harsh conditions. Outdoor compressors should be positioned to minimize direct sun exposure while allowing plenty of room for air to flow around the units.
Correct Airflow. The airflow and duct leakage should be tested and airflow adjusted as necessary to improve operating efficiency, comfort, and indoor air quality.
What if I'm Not Ready for New Equipment?
You can still save money by keeping your equipment in good shape through annual tune-ups and regular filter replacements. Each year that your heating and cooling equipment misses its maintenance appointment, it can lose on average, 5% of its efficiency. If as little as 1/10th of an inch of dust accumulates on your blower wheel, it can reduce your furnace's efficiency by 20%! If you need to schedule Denver air conditioning installation or Denver heater installation, call Bell Plumbing, Heating, Cooling today!