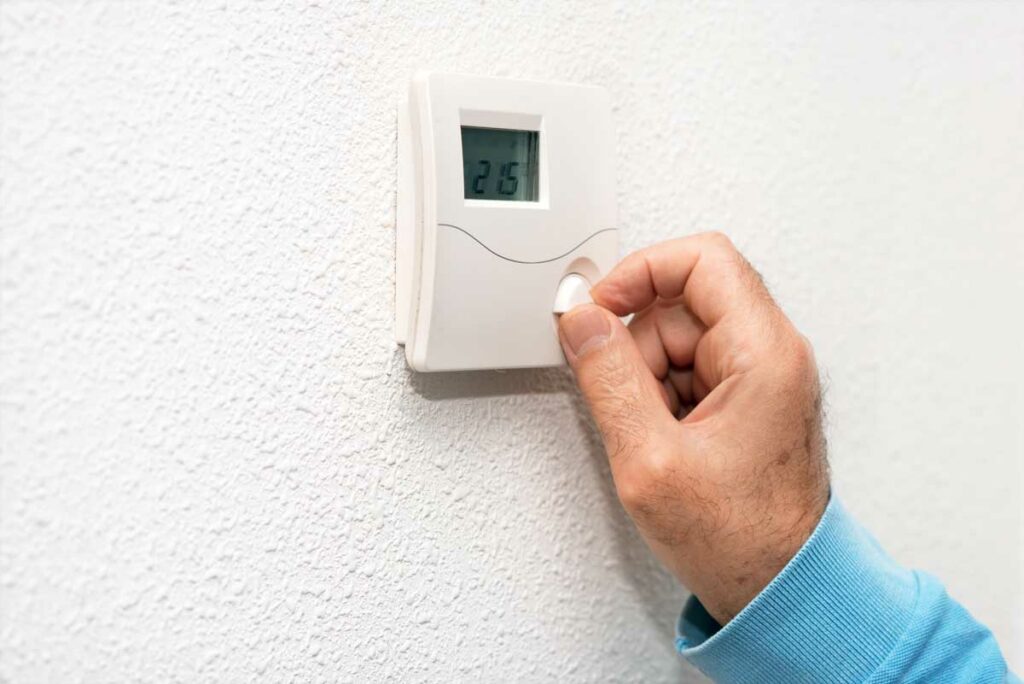 Nobody loves overpaying for utilities. You don't have to be uncomfortable in your home, though! You just need to use your HVAC system to its maximum efficiency. And that starts with your thermostat. Keep reading to learn more about the different types of thermostats and the differences between them. If you have any questions at all, reach out to our Denver HVAC pros at Bell Plumbing, Heating, Cooling & Electrical!
Types of Thermostats
Thermostats come in three basic types: manual, programmable, and smart. 
1) Manual Thermostats
Manual thermostats are the old-school type you run across in older homes. They're inexpensive, but they aren't especially precise or energy efficient. To ensure maximum efficiency of your HVAC unit, you have to manually adjust the settings every time you enter and leave your home.
2) Programmable Thermostats
Nowadays, most people have a programmable thermostat. You program the thermostat to output various temperatures throughout the day to maximize your savings and comfort. For example, when it's cold outside, you can set your thermostat lower when you're not home and higher in the evening. These electronic thermostats allow for customization, adaptation, convenience, and energy savings. They may cost more than their manual predecessors, but the savings are worth it! 
3) Smart Thermostats
Now here's the cool option. Smart thermostats are essentially programmable thermostats on steroids. If you're looking for all the best features and then some—we're talking self-learning and energy-use data galore—a smart thermostat is the way to go.
We're going to strongly recommend that you don't opt for the manual thermostat. So how do you decide between the programmable and smart options? Keep reading.
Three Differences Between Programmable and Smart Thermostats
1) Customization
Programmable thermostats allow for varying degrees of customization, depending on the model you choose:
7-day models allow you to have a different schedule every day of the week.
5+2 models have the same schedule for the 5-day work week and a different schedule for weekends.
5+1+1 models provide the same schedule for the 5-day work week then different schedules for each weekend day.
Smart thermostats offer these same settings plus the ability to make adjustments on the go using a smartphone—even when you're not home. Let's say soccer practice went a little shorter than usual, and your kiddo has been running in the cold fall air. You can adjust the thermostat on your way home to give you the perfect temperature when you return!
Some smart thermostats are also self-learning—they can track movement in your home to figure out more specific patterns and schedules, automatically adjusting themselves as needed to keep you comfortable.
2) Cost
There's a decent price difference between smart and programmable thermostats. So do smart thermostats result in a significantly more efficient system? Will you make up for the initial cost over time? Only if you use your smart thermostat to its full capabilities.
3) Bells and Whistles
For some people, using technology to adjust a smart thermostat doesn't bring them joy. If you're not a tech-savvy homeowner, the programmable thermostat will work just fine.
To get the full use of a smart thermostat, you'll want to take advantage of features like energy reports and monitoring. And remote adjustments. Say, for instance, you choose to go to dinner and a movie after work instead of going straight home. Remotely adjusting your thermostat will keep the temperature in "away" mode. Or maybe you need to get up and moving earlier than normal one day. Simply adjust your thermostat before you even get out of bed!
Similarities Between Smart and Programmable Thermostats
Ultimately, depending on your budget and preferences, either thermostat will be a great upgrade to your home! Given their key similarities, it's pretty hard to make the wrong decision.
You'll experience similar cost savings. If you use your thermostat to its full potential, you can expect to save 15 to 30% on your energy bills. ENERGY STAR gives a pretty thorough list of things to keep in mind so you get the most from your thermostat.
The thermostat needs to be compatible with your home.
Depending on the age of your home and the existing HVAC system, you might be limited in your options. Both programmable and smart thermostats need to be compatible with your HVAC system. Each thermostat should be professionally installed. If you're ready for a new thermostat, contact your Denver HVAC technician at Bell Plumbing, Heating, Cooling & Electrical today.