Protect Your Home From Power Surges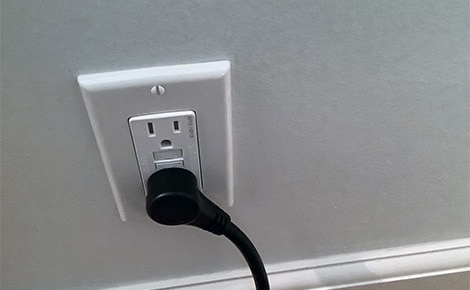 Did you know that power surges cause, on average, a billion dollars a year in damages There is a way to protect not only your electronic equipment and appliances but your entire electrical system: whole-home surge protection in Denver, CO. We aren't talking about a simple power strip. Instead, we are talking about surge protection that is integrated into your home's existing electrical system. This type of surge protection is far more effective and protects much more than a simple power strip.
If you are interested in surge protection for your Denver, CO home, call Bell Plumbing and Heating today to protect your home and appliances from electrical surges!
What Is A Power Surge?
Power surges can occur for a variety of reasons, not just lightning strikes. Downed power lines, sudden changes in electricity use by a nearby factory, or even the cycling on and off of energy-sucking devices in the home, like dishwashers, hair dryers, air conditioners, and refrigerators, can cause surges. These power fluctuations can inflict instantaneous damage that may not show up for some time. For example, your microwave might stop working a year after the surge.
Two Levels of Whole Home Protection
When it comes to power surge protection, there are a total of three levels, and two of them are for whole-home use: level 1 and level 2:

With a level 1 surge protector, an electrical power surge won't even make it to the meter of your home. This is because the protector is installed between the main utility coming into your property and the power meter. Should a surge occur, a ground will re-direct the surge before it reaches your meter, helping your home and electrical system avoid the entire power surge.
A level 2 surge protector is installed between your electrical meter and your electrical panel. With this surge protector, the power surge can enter your home, but it will be re-directed to safe ground before it can reach your electrical panel and cause damage.
Plug-in surge protectors come in to handle excess voltage that might leak by the whole-house suppressors, which could be up to 15 percent. These protectors act as buffers between individual appliances and wall outlets. The cost for these units can range from $20 to $350 depending on the features and the level of protection they provide.
The Power of a Surge
Power surges aren't just brownouts or lights blinking; they are balls of electrical energy, and they can contain as much as 40,000 amps. To put this amount of electricity into perspective, most home electrical panels are 200 amps – a considerable difference. You can lose more than a computer or TV with a power surge – you can lose large appliances, melt parts of your electrical system and have serious damage done to your electrical panel.
Protect Your Home From Electrical Surges
Investing in surge protection may seem costly initially, but it may very well pay for itself in the long run by preventing expensive damage to your appliances and electronic devices. It's important to note that insurance companies don't typically give discounts for surge-protected homes. However, the peace of mind and potential savings from avoiding damage from a power surge make it a worthy investment​.
The bottom line? Power surges are serious events, and the best way to protect yourself from them is with a whole home surge protector. The electrical experts at Bell Plumbing and Heating can help you with all of your electrical needs in Denver, CO – just give us a call!