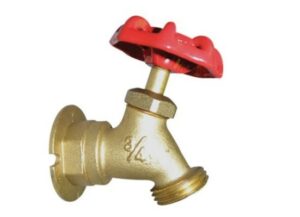 In Colorado, we know that it's best to wait until after Mother's Day to start planting your garden. By now, most of the threat of freeze is over and the sun is here to stay. And now that watering season is upon us, it's often the time we find our outdoor spigots and sprinkler systems have sprung a leak.
What caused my outdoor faucet to fail?
An outdoor faucet, also known as a spigot or sillcock, is what connects to your garden hose. Leaking around the spigot can be from failed parts or a freeze crack
How do I fix a leaky sillcock?
Leaks can come from different parts of your sillcock. Depending on where the leak is coming from, there are various ways to fix the leaks.
A handle stem leak – your spigot has a cord wrapped at the bottom of the handle stem. If you notice a leak around the threads near the handle stem and mounting nut you can repair it by following these steps:
Turn off the water to the spigot
Remove the handle of the outdoor faucet by unscrewing it
Unscrew the packing nut around the faucet
Replace the old packing cord with a new one
Reassemble the faucet and reattach the handle
A worn-out cartridge or stem washer – is one of the more common reasons for a leaky sillcock, identified by water continuing to flow when you close the handle. Follow these steps to repair it:
Turn off the water to the spigot
Remove the handle of the outdoor faucet by unscrewing it
Unscrew the mounting nut around the faucet
Examine the washer and rings found at the end of the sillcock stem and replace them
Reassemble the water hydrant and turn the water back on
A valve body leak – identified by low pressure. If the water pressure is fine in the rest of your home, you likely have a leak in the body of the faucet. This leak is common when water freezes in the valve body and may be inside a wall or under the house. To repair this type of leak, you'll need to replace the entire sillcock.
Extreme temperature fluctuations can affect the performance and longevity of an outdoor faucet. When temperatures drop, the faucet can cause pipes to freeze and cause a leak. To avoid bursting pipes due to temperature fluctuations, you may want to install a frost-free hose bib. With a frost-free faucet, when you turn the water off, it stops behind the valve inside your house leaving no water to freeze in the pipes.
Get Help from the Denver Plumbing Pros!
If you need help with indoor or outdoor plumbing, contact the licensed plumbers in Denver and beyond at Bell Plumbing, Heating, Cooling & Electrical. Call us today!