Trends in Faucets for 2023
Updating your living spaces can offer rewards well beyond the enjoyment you get from a fresh, new look. According to Zonda, a housing market research firm, a minor kitchen remodel in the mid-price range will net, on average, an 80.1% return on investment.
What's New in Kitchen and Bath Faucet Trends for 2023?
Touchless faucets: Touchless faucets conserve water and can save money over time. They also offer an excellent way to keep bacteria and other germs from spreading throughout your home.
With touchless technology, you can turn the faucet on and off without touching it, ideal when your hands are messy.
Smart faucets: Similar to smart thermostats, smart faucets can be controlled via Wi-Fi. Paired with a companion app, your faucet can be activated by voice commands. If you want cold water for a drink or hot water for dishes, you can ask a smart faucet to get you just what you want. This technology can also learn your habits and adjust water flow, accordingly, helping to conserve water and energy.
Multipurpose faucets: Faucets that can perform multiple functions, such as dispensing filtered water or providing a built-in soap dispenser, are becoming more popular. These multi-functional faucets can help save space and streamline your kitchen or bathroom.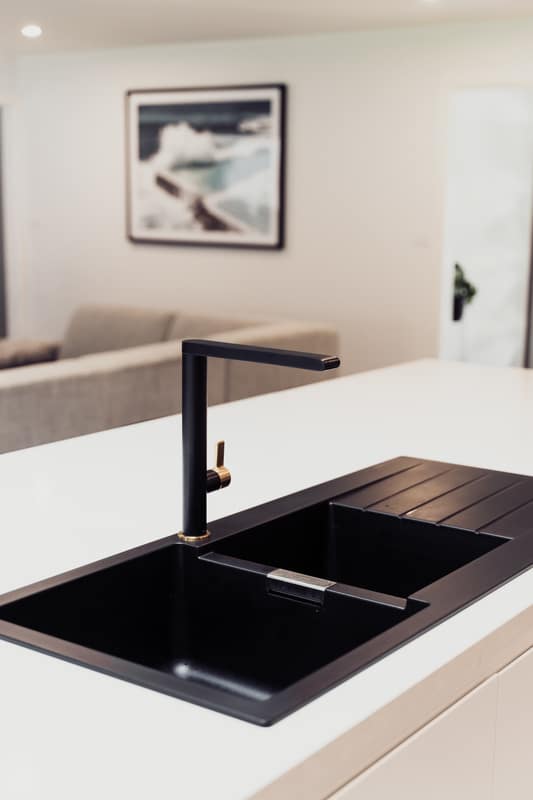 What's Trending in Faucet Colors and Finishes?
Mixing metals: We're starting to see more faucets that feature mixed finishes. Black and brass. Black and nickel. Silver and gold. Rose gold and nickel. Mixed metal finishes can make a neutral kitchen pop.
Monochrome finishes: Black faucets, particularly in a matt finish have increased in popularity. A black faucet can instantly modernize your kitchen.
Statement color: The latest way to apply a pop of color is with a brightly hued faucet or sink. Against a neutral backdrop, these faucets create a bold statement.
If you are ready to update your kitchen or bathroom faucets, contact Bell Plumbing, Heating, Cooling & Electrical experts for assistance. We're happy to install a faucet you purchase, or help you order the perfect fixture for your home.
If you are looking for a larger remodel of your kitchen or bathroom, call our remodel team at Striking Kitchen and Bath, (720) 722-4875.
Recommended Reading