For the Love of Air Filters
Saving energy is near the top of most homeowner's to-do lists. And creating a healthier, energy-saving home just makes sense. Energy-efficient Indoor Air Quality solutions have several benefits including lower utility bills, extended life of some home appliances, and a positive impact on the environment.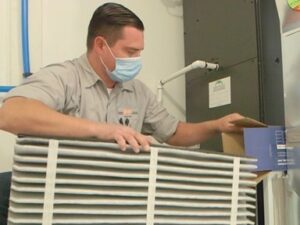 High-Efficiency Air Filters
HVAC systems are forced to work harder to pull air through filters that are not in prime condition. When you choose a high-efficiency air filter, you're helping to protect your HVAC system from fewer service calls. AprilAire filters are specifically engineered to work with your AprilAire air purifier. They're effective for 6-12 months compared to the traditional 1-3 month filter, saving you precious time and money.
Whole-Home Air Purifier
Keep you indoor air cleaner with a whole home air purifier, and your HVAC will work more efficiently too! AprilAire air purifiers can be installed as part of your home's central heating and cooling unit, or other versatile units can be installed in your home's basement, attic, or closet. This is the best way to suit your energy efficiency needs and create a Healthy Air environment throughout your home.
Programmable or Smart Thermostat
While you're in the energy-saving mindset, putting a heater and air conditioner on a schedule means you are only paying for comfort when you're actually enjoying it. Energy-efficient Wi-Fi thermostats provide control from anywhere by syncing with your mobile device. With the ability to monitor humidity and temperature conditions in your home even when you're not there, programmable thermostats offer peace of mind as well as major savings.
Contact a Bell Plumbing, Heating, Cooling, and Electrical Healthy Air Professional for Energy-Efficient Indoor Air Quality Solutions.
RECOMMENDED READING: