When temperatures plummet in Denver, it can be a real threat to your plumbing system. Water expands when it freezes, which can result in a leaky or burst pipe. Older homes are more likely to suffer from frozen pipes, but all homes are at risk.
Before the next Colorado freeze, make sure you identify the steps that can prevent damage to pipes.
How Long Does It Have To Be Cold For Pipes To Burst?
Water freezes at 32 degrees, but fortunately the pipes inside your home are kept warmer thanks to the insulation in your home. Typically pipes are at the greatest risk of freezing when the temperature outside is consistently at or below 20 degrees. If pipes are exposed to these below freezing conditions for more than 6 hours, they are much more likely to freeze and could potentially burst.
What To Do When The Temperature Drops To Prevent Your Pipes From Freezing?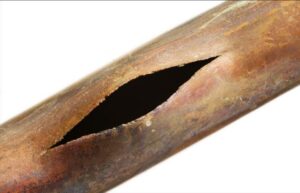 Make sure you know where, and how, to shut off the main water supply to your house, and keep a clear path to the shut-off so that you can get there quickly
If you've had problems with certain pipes in the past, insulate around them to protect them as much as possible
When temperatures drop below zero, keep your thermostat above 65 degrees, open cabinet doors to expose pipes to warm household air, and keep a slow drip in a faucet farthest from where your water enters the home
How Can You Tell If Your Pipes Are Frozen?
There is no water when you turn on a faucet or fixture
You can see frost on the outside of the pipes
Drain back-ups that block food and waste cause a bad smell
What Should I Do If My Pipes Are Frozen?
Turn off the main water supply
Identify where the pipe has ruptured and clean up any water around the break to avoid further water damage
Drain the faucets to take pressure off the pipes
Call for assistance in repiping the affected area
Contact our licensed Denver plumbers to assist with:
Frost-proof Hose Bibs
Fixture Repair or Replacement