Now that we're entering cold and flu season, it might be time to think about ways to ease the symptoms. And the spread.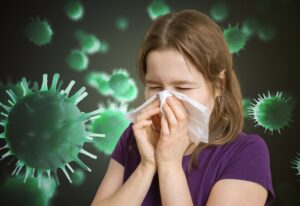 Make your home a haven from the cold and flu viruses.
Cold, dry weather and winter winds can zap moisture from your skin, lips, and sinuses. A humidifier can help return moisture to your home and soothe sore throats and dry noses. The American Society of Heating, Refrigeration, and Air-Conditioning Engineers (ASHRAE) has long recommended keeping indoor humidity at a moderate range of 40 to 60% for human health.
Air purifiers can remove the smallest microbes in the air, reducing airborne germs that not only include cold and flu viruses, but also dust, pollen, mold spores, pet dander, and smoke particles. A good air purification system will help curb the spread.
Reduces up to 99% of bacteria, mold, and viruses
Reduces sneeze germs by 99% in the time a sneeze can reach three feet
Provides whole home and building purification
Air purifiers such as the Aprilaire Model 2210 can remove up to 98% of air pollutants, providing 10 times the filtration of a standard one-inch furnace filter. Not only that, but it can also extend the life of your HVAC system by reducing airborne contaminants and debris that shorten your system's lifespan. These long-life, high-efficiency filters may also reduce your filter maintenance interval.
Another product, the Reme Halo, is installed in the ductwork and features a patented technology of hydro-peroxides that kill bacterial, mold, and viruses in the air and on surfaces, while also reducing odors, smoke, volatile organic compounds, and particulates by 99 percent.
Whole-home humidifiers add moisture to the air in your home to prevent dryness and ease some of the symptoms caused by the flu, allergies, or the common cold.
Keep in mind, for your home to have the benefits of cleaner, humidified air year-round, the blower on your furnace must remain on continuously.