During the colder winter months, we often find ourselves wanting space heaters to warm up a smaller space rather than turning up the heat to the full house. Maybe a north facing bedroom gets a bit chillier than other rooms. Or a home office is tucked away for solitude and a temperature change is helpful for those sitting stationary at a desk. But are these portable heaters causing more harm than good?
Maybe. If you aren't managing the power load correctly.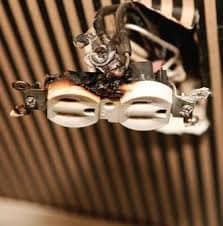 Portable space heaters use a lot of power and can overload circuits, cause breakers to trip, and even start an electrical fire if not managed correctly. A good rule to follow is to never exceed 1500 watts per outlet. Some heaters use that wattage on their own.
You might notice that your space heater keeps tripping the breaker. If this is the case, be sure to correct the issue right away. You should never plug a space heater into a surge protector or an extension cord. And in an office space, never allow your computer to be plugged into the same outlet as your heater as it may result in a fried computer.
If you plan to use a dedicated space heater in a particular room of your home (or office), it might be a good idea to install a dedicated circuit like you have for other major appliances. A licensed electrician can install the additional circuit by connecting it to your current electrical system. You can then connect your heater to a dedicated outlet for safe and uninterrupted use.
For an electrical safety inspection or installation of a dedicated electrical outlet, contact our licensed electricians at Bell Plumbing, Heating, Cooling & Electrical.